Outlook for Android updated with much needed overhaul and Windows 8 feel
Microsoft has just announced a major update to its outdated Outlook app for Android with a revamped user interface and nicer feel.
With this update Outlook for Android gets the same treatment as Windows 8 and adds some other features.
Microsoft says,
With this update, you can get the same great Outlook.com look and feel you've come to love on Windows 8 and the web on your Android device.

The best mobile experience is enabled through Exchange ActiveSync–which provides a rich, powerful, network-optimized experience for Windows Phone, iOS and other mobile devices. However, native support for Exchange ActiveSync on Android devices varies significantly and so we build a separate app to ensure as many people as possible can have a great Outlook.com experience across all their devices.
In addition to the new look Outlook for Android also adds conversation threading, filters for unread and the ability to mark messages as junk. Once you log in with your Live, Hotmail or Outlook.com account, calendar and contact sync with your Android devices can also be enabled.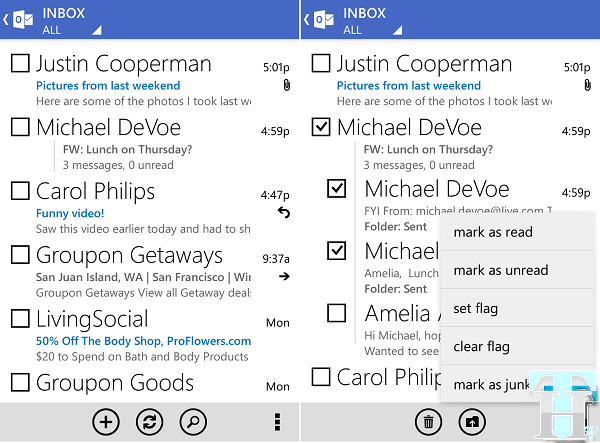 However, the app supports only one account at this time. If you have multiple account, you should use Microsoft Exchange Active Sync on your device. Microsoft Exchange Active Sync is available on most of the Android devices including Samsung Galaxy S3, but as Microsoft mentioned, the native support varies significantly.
The latest Outlook.com App for Android can be downloaded from Google Play.