Start Dad's Day with Sliced Baked Potato Chaat [Recipe]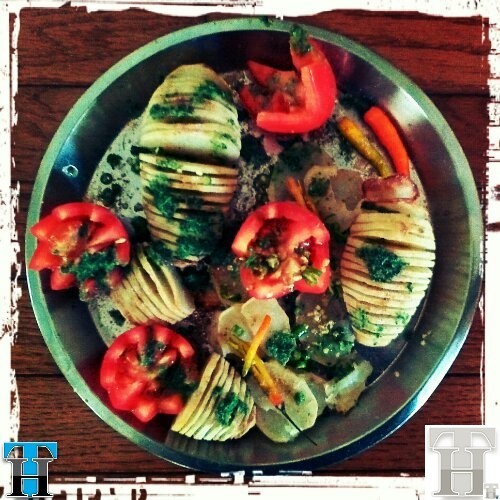 Don't worry, there is nothing technical in this article. Once in a while you should learn how to make mouth-watering dishes.
On Dad's day, try this cooking tip, and surprise him with something he has never seen.  Today I am going to introduce you to my recipe to make an Indian Style – Sliced Baked Potato Chaat.
Essentially to make something like this, you don't need many ingredients, however you need at least an hour. This is because baking potatoes takes a long time.
Well, without further ado, here is what you need:
Ingredients:
Potatoes – Based on taste, but at least 1 per person.
Tomatoes – 1 per person.
Green Chili – You don't necessary need it, but if you like spicy stuff, then couple of small green chilies will add great flavor.
Cilantro – 8-10 leaves.
Recipe:
First peel off potatoes.
Carefully slice potatoes in chips like small layers. The trick here is not to cut the slices all the way through, just cut up to 80% and leave it there.
Similarly, you may chop tomatoes into small pieces or keep them in big pieces, whatever you prefer.
Preheat oven at 385°F.
Put the potatoes on an aluminium foil and spray olive oil on these.
Sprinkle some salt on these, the oil will make the salt stick to these.
Now, bake potatoes for an hour or until brown in the oven.
Turn them once so that they are brown from everywhere.
Once the potatoes look brownish, remove them from the oven.
Now you can add some Chaat ka masala, and serve it with tomatoes and chilli.
To improve the taste, serve it with green chilli and green Chatni (or hot sauce).
[quote]Special tip : Eat it while it is hot. Crispy potatoes always taste better.[/quote]
Share you experience with me and let me know if you have any suggestion to improve it.