Spotify Launches Pandora killer for Android – Free Mobile Radio For U.S.
Spotify just announced on its official blog that a newly-released update has finally brought Free radio feature to the Android app.
The streaming radio feature lets users create stations based on a selected song, artist or album. When users stumble upon a song they like for instance, they have the option of saving the track to a separate "Liked From Radio" playlist.
What's more, users can create an unlimited number of stations, as well as give tracks the Pandora like thumbs up/down to influence future music choices.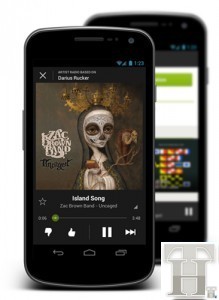 And the fact that this Radio feature is available for free to all users on mobile makes it a Pandora killer.
Check it out and if you already have Spotify installed on your Android device then just update the app to get this feature.  Enjoy all the goodness Spotify has to offer.
If you want some more Pandora alternatives, check out this list of 10 Pandora alternatives.
(via Techcrunch)
Posted from WordPress for Android