How Inc and FastCompany ignore Android and favor Apple
FastCompany released an app for iPhone and iPad in collaboration with Adobe. Apparently this new app, provides Apple iPhone and iPad users a DYNAMIC READING EXPERIENCE.
Congratulations Apple Fanboys! Another exclusive app for you.
I am not here to start the whole war again which is better – Apple or Android. I think at this time, it will be fair to say that both have their pros and cons. It is more of a personal choice than anything else now.
FastCompany has chosen to constantly ignore Android and it continues to do so today. This exclusive app is just another proof of that. A publishing company who constantly puts together such great content for entrepreneurs and offers tools, advice and design inspirations for startups. But they seem to continuously favor iOS over Android.
Being a long-time Android user – not because I am a geek or I like porn, but because I choose to use Android's openness over Apple's closed and controlling ecosystem – I am frustrated with this continued bias towards Apple.
How Inc and FastCompany ignore Android and favor Apple?
Let me give you some proofs of why I feel FastCompany and Inc. (or the parent company Mansueto Ventures LLC) is neglecting Android and why I am so frustrated that I end up writing a negative post about a company I love to read all the time.
Apple users get free Digital access to FastCompany magazine but Android users don't
FastCompany offers FREE iPad access with a paid print subscription. But Android users don't get to access FastCompany on Android devices for free. They are asked to pay to get access to the digital version even though they already pay for the printed copy. The users have been constantly asking for this PRIVILEGE. But all their reviews go un-noticed. Have a look at the recent reviews in Google Play.
What users on Google Play say about FastCompany –
Jack Cain says,
Love the magazine, won't pay twice for a product that doesn't meet my needs. Paying twice for a subscription is not a good use of funds, especially if the "digital edition" is simply a PDF file. If you want the best subscribers, you need to focus on that "deliver what the customer needs" concept that always comes up in your articles.
Ken Glickman says,
No free digital edition with print subscription. Be a fast company and get with the times. Not paying twice for content.
Adrian Wilhelmsen says,
Fast Company doesn't hide their love affair with Apple. Apple is great and American. But it's not all that's out there. Their affair is also evident by the fact they offer the FREE e-edition for the iPad with a paid print subscription. Still not buying an iPad. Agree with the others… Be a "fast company" and get with the times. This message sent from my top-rated Android, market owning, non-Apple device.
One visit to Google Play Newsstand can show you similar reviews from other frustrated users. It is also very evident that NO ONE from FastCompany has ever replied to any of these reviews. So their Apple love is very well documented.
Note: Other magazines like Fortune, Wired, Money and Time treat their readers fairly and offer digital access on iOS and Android both with paid print subscription. Thank you guys…
Exclusive Release of FastCompany iOS App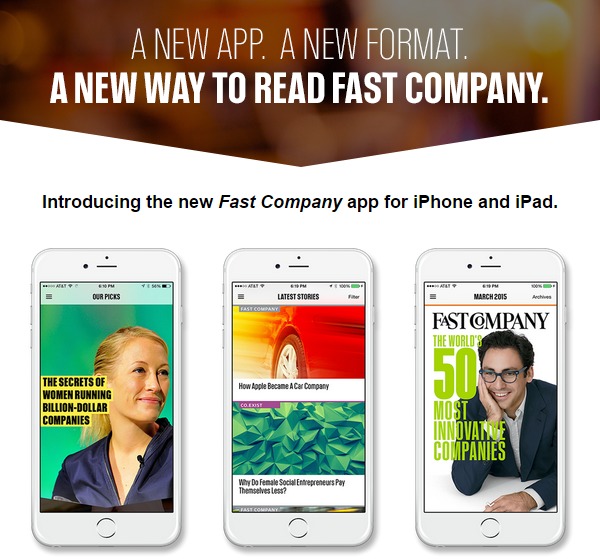 FastCompany just notified all their subscribers about the dynamic reading experience app. Before writing this article on Techacker, I sent an email to their editor asking for a response to my frustration – but I have yet to hear back from them….
Below is the email I sent, word to word –
Subject – Feedback: You asked for it !

Content –

Hello,

Thank you for being biased to Apple and leaving all Android readers in the lurk.
I have continuously felt that FastCompany and Inc, continue to favor Apple devices.
With every print subscription, Apple fanboys get free digital subscription whereas Android users are asked to pay twice.

Is it fair business practice? Shouldn't Android users be getting it for free as well or shouldn't they be paying half for the same print subscription.

I love to read both of these magazines but unfortunately both are not available in Google Play as a free subscription with my paid 3 year subscription. Is there any way for us to authenticate our subscription and get the digital version or it is just not possible? I see all reviews on Google Play asking for the same thing. Is someone even looking at those reviews or you guys have completely abandoned Android.

Hope at least you guys can come out of that Apple mindset and be fair with Android users.

As an unsatisfied subscriber,
Anurag Bansal
@techacker
Similar to me, there are thousands of, if not millions, other subscribers who just want to access the magazines they already pay for on their preferred devices. I hope FastCompany stops being biased to Apple. Else, as soon as my subscription is over, I am never subscribing to it again. End of the story.
I understand that a company may choose to support one platform and ignore others. But then, why would you release something in Google Play store if you don't want to support it and offer equal benefits to all customers?
If you are their privileged iOS customer, download the new app from iTunes store.
[themify_button style="small gray rect" link="https://itunes.apple.com/app/fast-company/id943119866?mt=8″ target="_blank" ]Download FastCompany App[/themify_button]
Thank you, everyone for reading my long rant. I just hope someone at FastCompany and Inc. magazine will respond to my post.