The 9 excellent ways to use Instagram on the web
Agreed that Instagram has its own website for users to interact with their photos.  But the functionality is not there, it is just a dumb page showing your profile, photos and comments.
But there is no shortage of services that bring analytics, different viewing options and much more to the bare bone Instagram website. The following services offer users more than what the immensely popular Instagram doesn't offer.  Check these out and see which one you like.
[themify_quote]You need to sign in with your Instagram credentials and grant the website access to your information to use any of these websites. In order to revoke this access, you can always visit instagram.com and click on Your Account –> Manage Applications.[/themify_quote]
9 Excellent ways to use Instagram on the web
If you like stats, I mean, lots of stats, then Statigram is something you should use.  Besides a simple web interface for Instagram, Statigram offers lovely stats of your photos, followers, likes, growth and overall engagement etc.
You can see your Instagram feed in a grid or list format, like, comment and share with other services.  Stats is what makes this service unique and really interesting to use.  Check out Techacker statigram page.
Do you use Pinterest?  If yes, then Pinstagram is in short, Pinterest + Instagram.  That means, you will see your Instagram feed and photos in Pinterest format.
Like in Pinterest, when you hover your mouse over a photo, five buttons : Pin, Facebook, Twitter, Like and Comment show up.  So, you can directly share photos to Pinterest, Facebook and Twitter using this interface.  See the image in full size by clicking on it.
Followgram is another way of looking at Instagram photos and feed.  It also gives you a Follow button (like below) that you can put anywhere on your blog or website.
Click on a photo to view it in a pop-up window, which is where you can like, comment and view the filter information.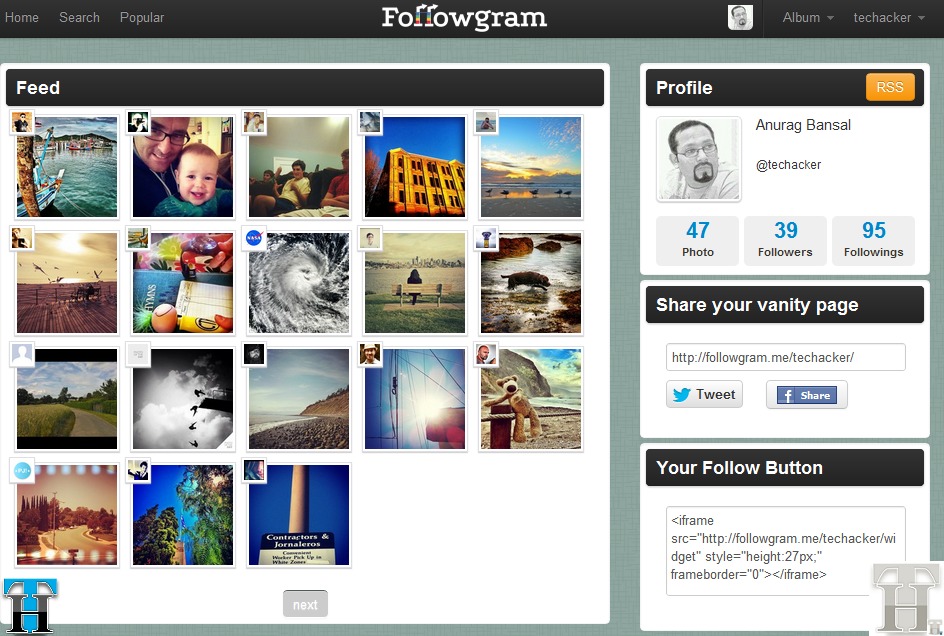 Ink361 is actually something like Pinterest but with larger thumbnails.  Below the photo, you see the username, number of likes and comments information.  When you hover the mouse over the photo, it reveals the title and associate tags on the photo.  You may actually change the size of thumbnails from the bottom of the page.
Clicking on a photo, opens it in a new photo page with full size image.  This is where you get complete detail about the photos, who liked it, comments, tags and the filter used.  You may add your comment on this page and like the photo if you want.  From the photo page you can also share it to Twitter, Facebook, Google+, Pinterest, Tumblr and all.
From tools, you can also create Facebook Timeline, Twitter and iPad background using your Instagram photos.
Luxogram looks and feel like INK361.  But it doesn't offer all the other tools and options Ink361 offers.
Gramfeed shows you the photos on a map.  Click on a balloon on a map and see the image uploaded from that location.  You may choose to view the photos in a grid or lost format.
Clicking on a photo brings you to the photo page.  This is where you can like, comment, share and download the photo.
Webstagram shows the photos and feed in a Pinterest like interface as well.  You may view the photos in grid and list format like others.
It has customized feed for Popular, Hot and Photo of the Day.  Check these out to see what is hot on Instagram.  You can also get another Follow me Button for your Instagram profile as shown below.
Webbygram's interface is quite simple and without bells and whistles.  You can pretty much do all the things you do with Instagram mobile app but on the web.  You get to see only one image at a time which you can scroll up and down to see more.
If you don't want all the advanced features other sites offer, then Webbygram is something you need to check out.
Similar to other services extragram also is a web viewer for your Instagram photos.  Once you sign-in with Instagram, you can view your feed, follow other interesting users and interact with others.
The Discover tab on the top is really cool feature of Extragram.  Discover tab shows you all the cool uses you can follow based on a specific category like actors, music, fashion, food and personalities etc.  Or you can click on a tag to see the users associated with that tag and follow them.
Bottom Line
All of the above options offer at least the basic functionality of viewing, liking and commenting on Instagram photos on the web.  However, if I have to choose one at this moment, then I would go with either Statigram, INK361 or Pinstagram.   These three offer great deal of options while still maintaining the simplicity.
But I would like to hear from you.  How do you use Instagram on the web?  And which web interface is your favorite.  Do you use something other than mentioned here?  Let me know in the comments section.