Mediafire launches on Android with FREE 50GB space, puts Dropbox into Box
The online space market is hotter than ever. So many players are trying to put users' files into the cloud. Everyday new players are joining this race with interesting offerings.
In a similar fashion Mediafire has decided to join today with a bang by offering 50GB of FREE space to users. What is interesting is that Mediafire has been in this market for a long time, but it was limited to web only? But now you can use Mediafire from your smartphones too.
Earlier Dropbox and Box have offered FREE 50GB space and I think with certain luck you can still get it. They also offer smartphones app and you can sync your Desktop files with the services. And you can do that with Mediafire too.
If anyone is keeping a count, a user can very easily get over 200GB of online space without paying a dime. Agreed you will not get this space on just one service. But who cares, as long as you know what service you are using to store what kind of content. And you can always create multiple accounts on the service you like.
For example, I use 50GB of Box for my ebooks and other Techacker related files/pictures and stuff; 5GB of Google Drive for sharing personal files and stuff with my family and friends, 25GB of Skydrive for storing Photos and other media files.
I also have 2.5GB from Dropbox, 5GB from Cubby (a Logmein service), 15GB+ from Minus, 6GB+ from Sugarsync, 20GB from Pogoplug and a supposedly Infinite drive from Bitcasa.  And I also have some small space (2-5GB) from other small players.
Not sure what I am gonna do with all that space. If you have any idea, do let me know.
Coming back to my point, Mediafire makes this field even more interesting by launching Smartphone apps for iPhone and Android and giving 50GB online space for FREE. You can also download the Desktop app to upload the files and share. Let me warn you though, Mediafire Desktop app is not as good as Box Sync, but still if you want to use it to share files quickly, you have it.
Mediafire launches on Android with FREE 50GB space
The Mediafire Android app features are as follows:
Offers 50GB of Free space.
Keep all your important files at your fingertips.
View docs, spreadsheets, presentations, video, and listen to audio.
Take and upload pictures and videos directly in the MediaFire app.
Upload Android gallery images.
Create and manage folders of files.
Share files on the go via email, SMS, through other Android apps, and with copy and paste links.
Quickly search all your MediaFire files and folders.
All your files will always be safe in your MediaFire account and accessible through the MediaFire.com website.
If you upgrade, there is also a cheap membership of $1.50 per month (if you subscribe for a year) with some added features.
[button style="large green rounded" link="https://play.google.com/store/apps/details?id=com.mediafire.android" target="_blank" ]Download MediaFire from Google Play[/button]
[button style="large green rounded" link="http://itunes.apple.com/us/app/mediafire/id555646196?mt=8″ target="_blank" ]Download MediaFire from iTunes[/button]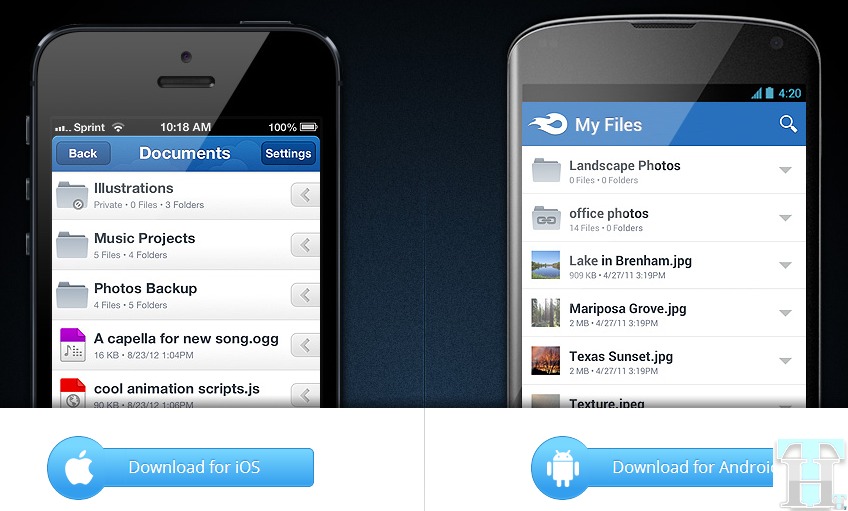 Note: The files in your FREE Mediafire account don't get a long term storage unless you are a paid subscriber, so this is where Box and DropBox prove to be a better choice. But that is only when you want to store the files and forget.
Once again, as the online space market is growing hotter and hotter every day, only time can tell what businesses will offer to stay competitive.
Let's hear in comments which is your favorite online space service and what do you use it for? Are there any tricks you would like to share?