Use FreeConference.com for reliable and free conference calls
Conference calls are important for any business.  It shouldn't be a pain to schedule and setup conference calls.
Well, if it is a long process at your organization then you may want to look at the way you schedule conferences.  Because it should not take more than two minutes to host a conference.  At the same time FREECONFERENCE.com lets you host conference call with up to 150 participants for FREE.  Yes, you read it right, FREE CONFERENCE CALLS.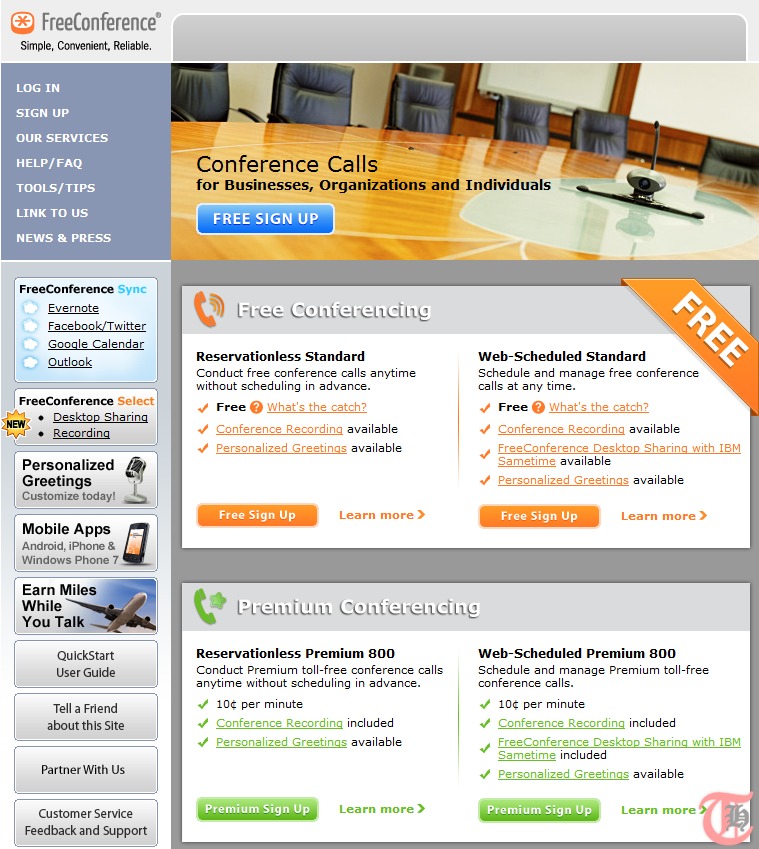 Up to 150 participants can join the conference call which should accommodate almost any size of business.  Personally I have never attended a call with these many participants.  Up to 10 people is what most regular conference need.  Anyway, whatever your need is, you can check out Freeconference.com for simple, convenient and free conference calls and create an account for yourself.
How FREECONFERENCE works?
Create an account by filling up a simple form to get started.
As soon as your account is created, you are provided by a number and access code. (as shown above)
This number and access code can be used to host an impromptu conference whenever needed.
Using the web interface, few extra details can be added and the meeting can be scheduled.
By scheduling your meeting through web, the contact details can be added and the meeting invite is sent to all the participants.  The invite contains the call details, access code, time, subject and who all are invited.
There are many ways, the conferences can be scheduled. (See image below to learn more.)
If your conference is pre-scheduled, then the participants are provided with a long-distance number with an access code to join the conference in their email invitation.
If the conference is not scheduled, then you will have to somehow provide your number and access code you got during registration to the participants.  (That is only for impromptu meetings.)
If you want you may get 800 number for your conference and other premium features like Desktop sharing and call recording by paying a small fees.
Rest everything is very straightforward.
As a matter of fact, you may access the web interface on your smart phone (iPhone or Android) too to schedule the conferences.  There is a Facebook app too, if you swear by Facebook all day long.  Also if you keep your outlook open the whole day, there is an add-on for outlook too.
Download FreeConference Android App
Freeconference.com is a really cool service.  In my testing, I couldn't ask for more for FREE.  None of my participants had any complaints as well.  You may want to check out yourself.  I am sure you are gonna love it.  I am planning to use it for all my conference needs.  Let us know in comments if you use any other service for this purpose and how much it cost you set up a conference call.